Tags
Dexter steer, Dun Dexter steer, Fergie, Ferguson tractor, grass, keeping the grass down, mowing, pasture, pasture management, sheep, short leg dexter, slashing, steer, TE20 Ferguson, Yellow, yellow Ferguson
Twinny Acres is currently twenty acres of farmland or pasture. Aside from a few trees in a loose wind break and a dam there is grass. Given that it's now spring here, the grass is starting to grow.
The last few weeks have been exceptionally wet with many communities experiencing flooding to different degrees and there is more rain coming with further flooding expected. Our farm has received plenty of rainfall which means we have an almost full dam, several large puddles, and very well hydrated soil which means there are water and nutrients ready for the grass to grow very well once it warms up a little more. Although much of it is still only ankle height, some patches are nearing the knees.
In order to minimise the risks of snakes and fires, we are onto grass management in a big way. We have two viable options in my view and we plan to use a combination of both as seems best suited. Firstly, cropping animals, starting with Stewart Little our newly arrived short-legged Dexter steer who arrived this afternoon. He is the first of our planned livestock as I hope to get some sheep this week as well. We're planning on five or so sheep and hopefully another steer at some point.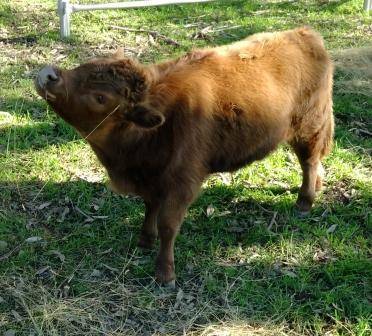 Stewart arrived via a friend and his trailer and, once a small side area had its fencing patched up, he was released to his great relief. He was nose deep in the grass and dusk last time we saw him. He's set up with lots of grass and plenty of water so he should be more than content until we get back out there in the morning to introduce ourselves properly. Not surprisingly he was pretty leery of us tonight but I have been assured he will settle down over the next 24 hours and come up for a handful of grain and a head scratch.
This will not be sufficient to keep twenty acres of grass low however so we took possession of a yellow TE20 Ferguson tractor and a slasher last Sunday. Fergie will be used to slash areas that may be less palatable to the livestock or simply where it's needed at the time. The clippings will be returned to the soil to add organic matter, much like the manure from the animals will do.
In time, perennial crops of fruit and nut trees will replace a good portion of the grass and, once we have a house there, we will also have hens and other poultry, plus dairy animals to keep the grass levels managed. I hope to be able to retire Little Yellow Fergie within several years which would mean we have closed the loop on pasture management. Only time will tell there I guess.